Ever wonder why some friends get way more comments and likes on their posts than you do? There may be a good reason.
Millions of people use third party applications to view their Facebook feeds. They range from desktop and web clients like Hootsuite, Seesmic, and Tweetdeck to mobile clients like the built in features of Android, iPhone, and Windows Phone 7.
It's very likely that many people on your friends list use one of these tools. It's also very likely that they never see your status updates.
This article will help you quickly determine if this is the case.
Why can't they see me and how did this happen?
Most likely, if you've been on Facebook a while, at some point you have modified your privacy settings. More often than not, this was due to Facebook being slack in their default privacy settings, and word spread around Facebook to make changes or be vulnerable. The problem arises when these "fixes" are an overreaction, and disable many of the features that make Facebook a social community.
There are many articles out there with poor recommendations, like "Best Option – Remove all applications" from Arun Vishnu or this post here, which tells you that "You just got rid of all the spammy and crappy apps" when in fact you blocked every app, including those your friends use to read status posts.
How do I fix it?
Follow the steps below to update your Facebook privacy settings as they relate to apps. This will ensure that your truly private information, like where you live or your interests are kept private, without blocking access to your status updates.
Privacy on Facebook is about WHO you share with, not what Apps those people use. We'll explain this at the end of the guide.
Step 1: Click on Account in the upper right, then Privacy Settings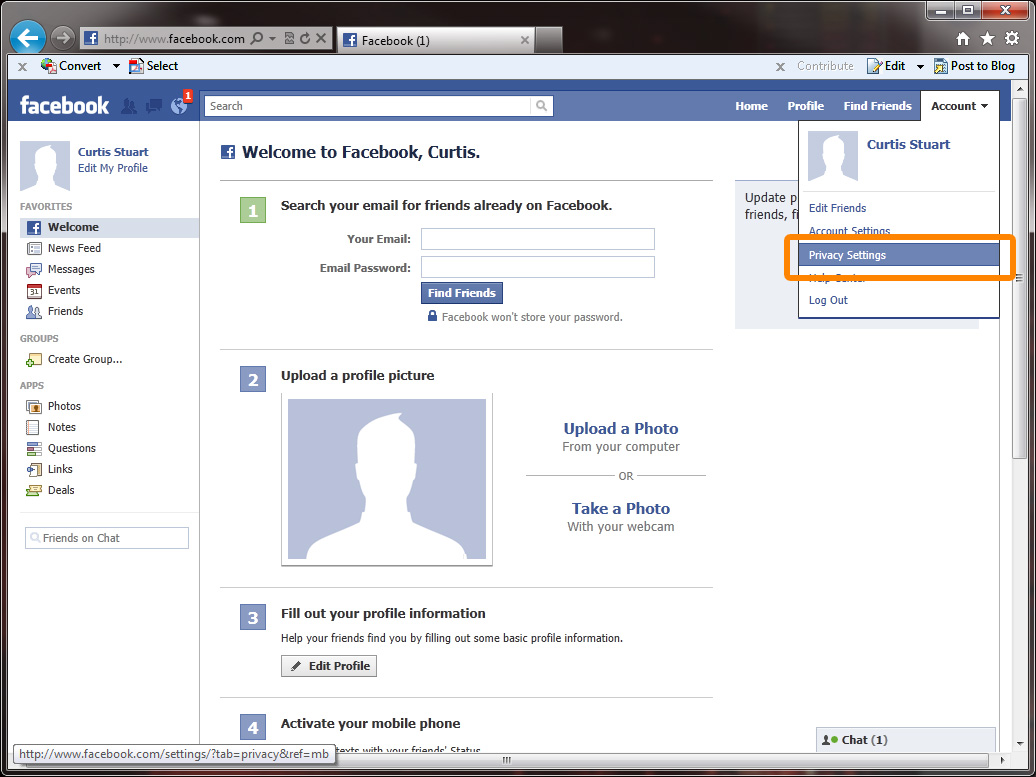 Step 2: Click on Edit your settings under Apps and Websites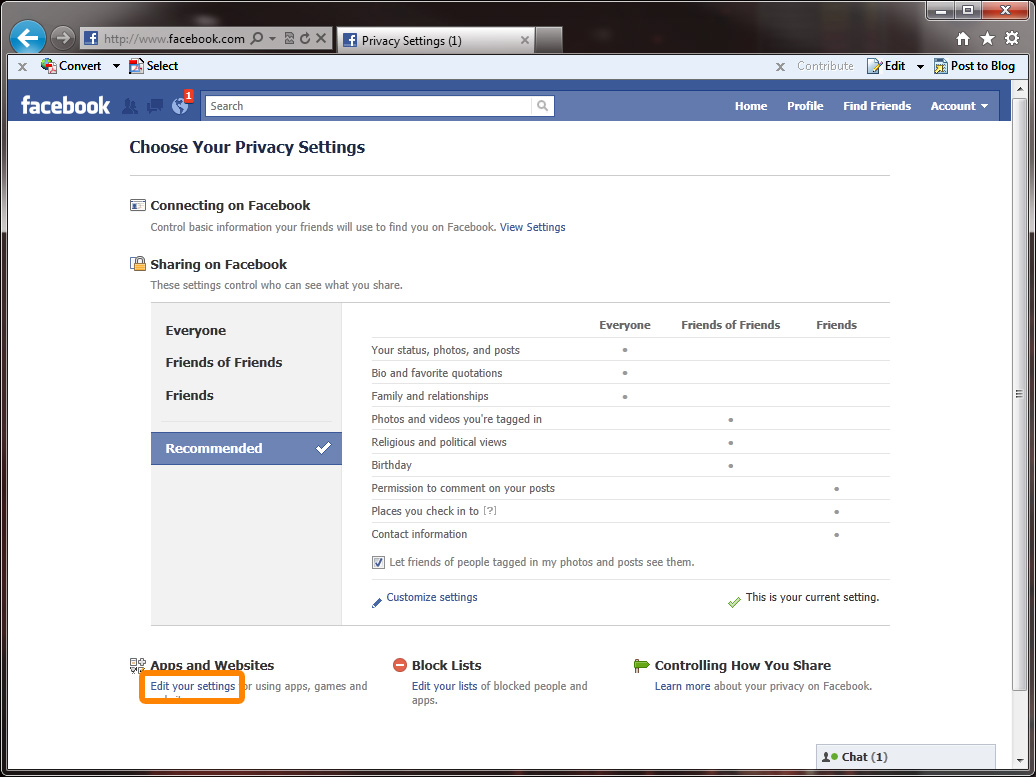 Step 3 (MAY NOT BE REQUIRED): If you see Turn on platform apps under Apps you use, click it. Most users should not see this. If the link says Turn off all platform apps, do NOT click it.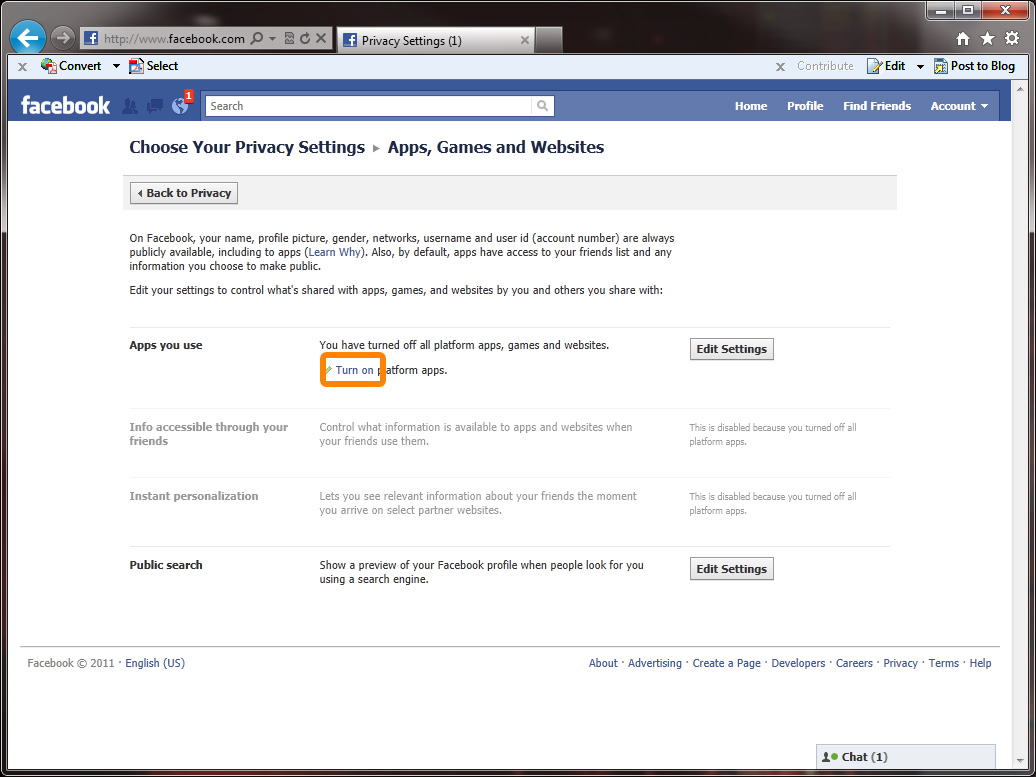 Step 4: Click the Edit Settings button next to Info accessible through your friends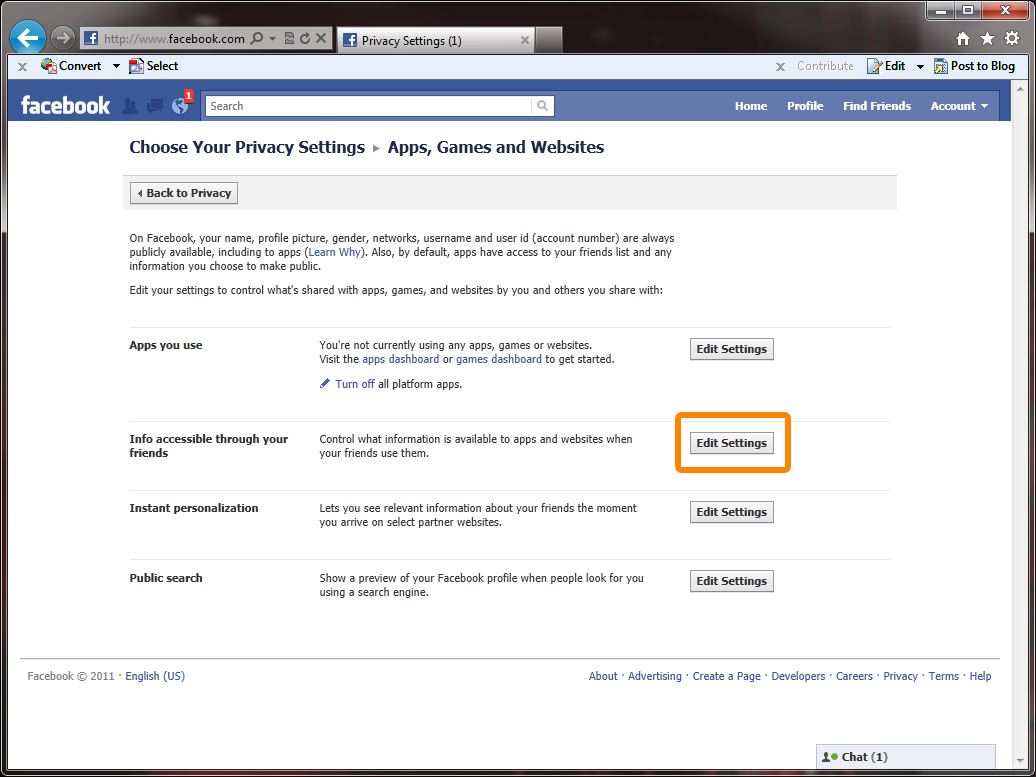 Step 5: Below are our recommendations for which options to check in your privacy settings. Anything you check here will be available to users who view their feeds through mobile or web aggregating applications.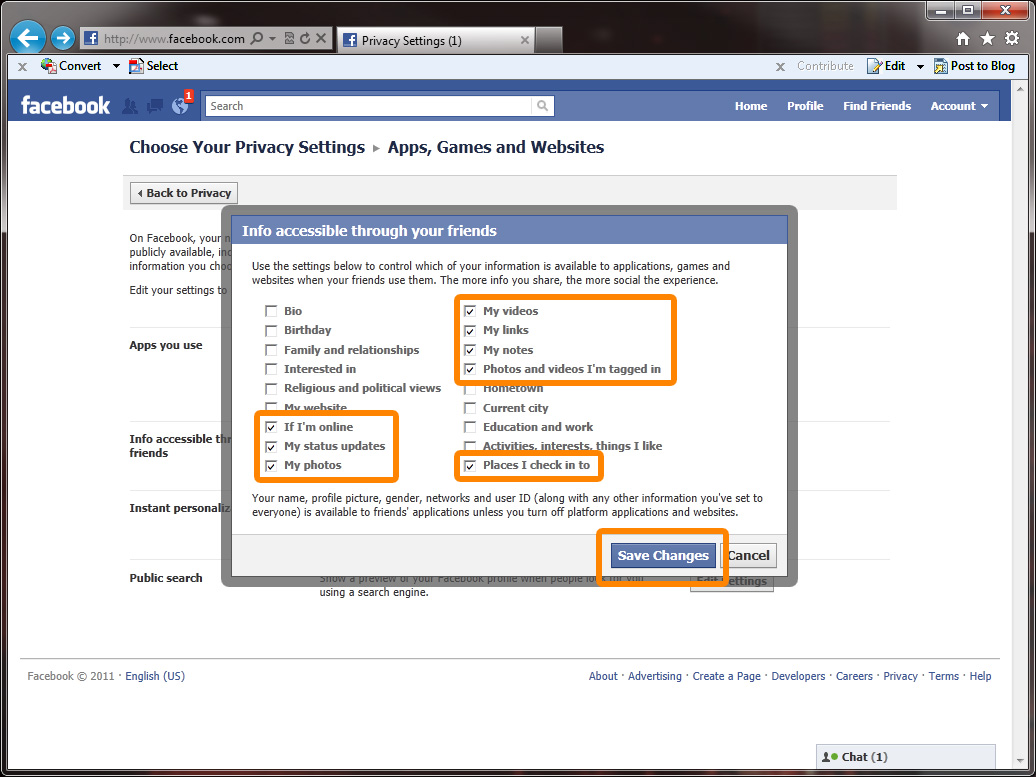 Now you're finished! If you would like to update the "true" privacy settings, jump back to Step 2 and click on the Customize Settings link. This is where you can change WHO sees your information, which is much more important. Reguardless of what applications a friend uses, these settings trump anything we have just gone through. This is where you can limit visibility to friends, friends of friends, or everyone.
My settings are right, but people still say they can't see me.
If you have an old Facebook account, try un-checking, saving, and re-checking the boxes above. Sometimes a quick reset is all that is required. If that's still not working, you can "Turn off all platform apps" as described above, and then re-enable them.
If you're still having problems, let us know in the comments below, as we would love to investigate any other reasons with you.