ANNOUNCING THE PUBLIC BETA AND OPEN SOURCE: See below.
With the constant growth of tablet usage, especially that of the iPad, there has been one large gap between picking up the laptop and picking up the iPad: User Profiles.
A tablet is not a phone, nor is it used like one. A phone stays in your pocket, and usually you are the only one who accesses it. On the other hand, most tablets make their way to the coffee table, for any member of the household to grab.
The problem here is personal space. We don't want to have to log our significant others out of their Facebook account every time we use the tablet, or have to use web-mail because someone else's accounts are signed in to the mail client. That ruins the convenience of having a quickly accessible tablet.
Thus, we have created User Profiles, a new application for jailbroken iPads that will solve this dilemma.
Features include:
Fast user switching for multiple accounts on re-spring (Approx 5 seconds)
Independent wallpapers and other settings like brightness
Seperate settings for iTunes applications (Facebook, Twitter, etc)
Unique icon image per user
Support for independent Email/Contacts/Calendar accounts
Different bookmarks, history, and site logins for Safari
Shared applications: Install an App on one user, it auto-installs for the other
Complete iTunes compatibility
Shared Cydia settings support
Clone existing user to new user
v2: Optional password security for accounts
v2: Multiple skins, such as OSX and Win7
v2: Support for unlimited users (v1 is limited to 6 [UI Limitation])
Keep watch on our RSS Feed, Twitter, or Facebook for a video of User Profiles in action.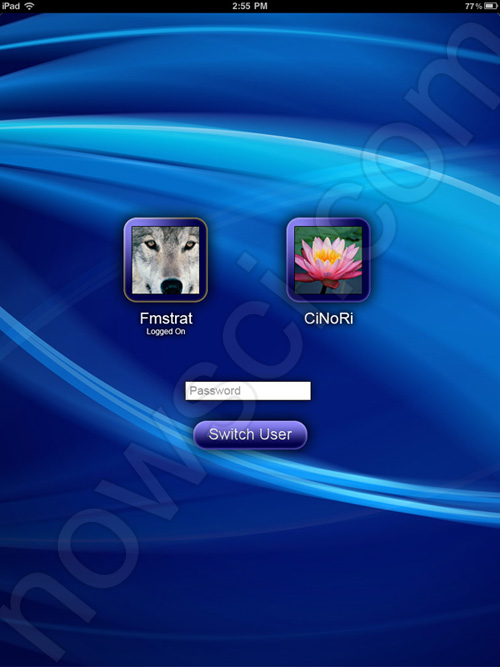 Public BETA and Open Source
After time limitations keeping me from working on the project, an offer to purchase, and a competitor (albeit buggy one) on the market, I've decided to release User Profiles as Open Source, and enable a public BETA.
READ THIS. If you choose not to and destroy your iPad, don't blame us.
This software is BETA, it does not work perfectly. Use at your own RISK.
This app may crash your iPad and force you to do a restore. Rarely have we seen this, but it has happened (reported once).
There is one MAJOR unsolved bug. When deleting, updating, or installing a new application, may times icons will vanish or turn white for users that are not logged in. If this occurs, use theWhite/Missing Icons? button to correct it. You will probably have to do it 3 to 6 times. You WILL lose icon organization, which is why we recommend only installing, updating, or deleting apps from your primary user, to ensure that user remains consistant during the test.
During the BETA, there will be a button at the top labeled BETA: Backup. Please make sure you have MORE free space on your device than currently used by Applications (not media), and use this button to do a full, static backup. If anything goes wrong, you can restore manually via SSH using this backup (stored in /var/mobile).
To participate in the public BETA, add the following REPO to Cydia: http://apt.nowsci.com
For instructions on how to add a REPO, visit: http://modmyi.com/wiki/index.php/Adding_a_repo_to_Cydia
GitHub Repository
If you would like to participate in the development of this project, and help fix the issues listed above, please take a look at our GitHub repository: https://github.com/Fmstrat/User-Profiles-for-iPad and/or comment below.